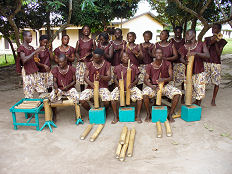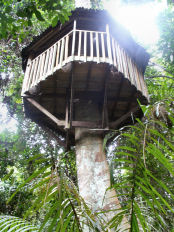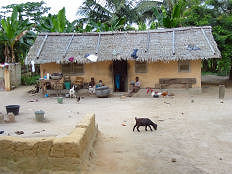 Mesomagor
is a small village of around 400 people in the Central Region of Ghana. It is approximately 40 km Northwest from Cape Coast, the regional capital. Mesomagor was originally inhabited because of its close proximity to the forest, but grew because of its rich soil.
The founder of the village, Nana Mossi I, left his village to come to Mesomagor for the hunting. He invited people from his hometown of Amoabin several times, but they resisted, saying it was too far. So, he told them in Akan language Mene Memba Yeso Agro. This literally means I and my children are up to enough number to play any game. People soon shortened it to Memba So Agro and it eventually became Mesomagor, as it is called today.
Have you ever been in the forest reserve at night, resting safely on a platform high up in a big forest tree - hearing all the calls and noises of the forest animals and maybe watching a group of forest elephants passing by?
The village of Mesomagor offers you all this. Visiting us gives you the great opportunity to get in touch with real African rural life. You can lodge at our comfortable village guest house, eat local food specially prepared for you by a well-trained women group, make friends with the local people who readily will welcome you, take you round through their village and farms during the day and accompany you to a tree-platform in the nearby Kakum Forest Reserve at night if you wish.
But even more: Mesomagor offers you the unique opportunity to watch a traditional bamboo orchestra and it´s dancers performing Ghanaian music and dance, and to enjoy a traditional story-telling evening where old "Ananse stories" and fairy tales are told, accompanied by lifely improvisation of songs and drama pieces - a glance at traditional village culture you will never forget!
Come to Mesomagor and enjoy memorable hours "down to the ground" in Africa! You will always remember...